Home Cinema 2350 4K PRO-UHD1 3-Chip 3LCD
-Ultimate 3D Home Cinema Experience
The Epson Home Cinema 2350 4K PRO-UHD1 3-Chip 3LCD Projector is designed to deliver an immersive 3D home cinema experience. Featuring Epson's proprietary 4K PRO-UHD1 resolution enhancement technology, the projector delivers sharp, detailed images with accurate color reproduction. Additionally, the projector's advanced image processing capabilities upconvert standard definition and high definition content to near-4K quality for a truly immersive experience.
Epson has a new gaming-focused projector on the market, the
Home Cinema 2350 4K PRO-UHD1 3-Chip 3LCD Smart Gaming Projector
. Its primary function is to let you play your favorite video games on your wall. Though it can also be used to watch TV and movies, its main purpose is for gaming. You can connect it to other devices through HDMI or use the built-in Android TV to stream your favorite games.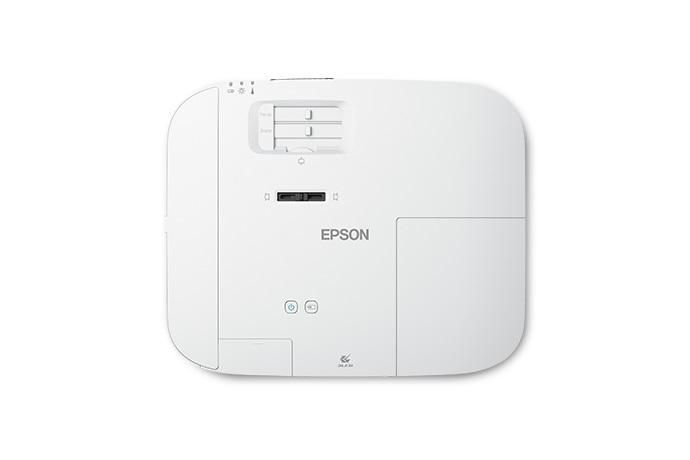 The Home Cinema 2350 is designed to give you clear, sharp, and smooth 4K Pro UHD video. The company boasts that it can handle games played at up to 120 frames-per-second, at 1080p resolution with a 120Hz refresh rate, or 60Hz when in 4K. Epson also claims the Home Cinema 2350 offers sub-20 millisecond input lag—which puts it slightly behind the optimal sub-16 millisecond lag for high-end monitors.
The Home Cinema 2350 also includes a built-in 10 W bass-reflex speaker, as well as support for Bluetooth audio devices. However, there is a caveat. Due to the way this projector connects to Android TV, audio from movies and TV shows played on the device cannot be heard through the integrated speakers. Audio will need to come from another source, such as an external speaker setup or from the connected device itself.
Home Cinema 2350 4K PRO-UHD1 3-Chip 3LCD Features
With 4K PRO-UHD, you're getting an amazing 4K experience with enhanced resolution and color processing.
You can play games at a 1080p resolution with a 120 Hz refresh rate or game at 4K PRO-UHD HDR with a 60 Hz refresh rate.
Advanced 3-chip 3LCD technology displays 100 percent of the RGB color signal for every frame, ensuring outstanding color accuracy while maintaining excellent color brightness. This technology eliminates distracting "rainbowing" or "color brightness" issues seen with other projection technologies.
The latest Android TV interface with a simple-to-use remote lets you watch all your favorite streaming channels, including Netflix, Amazon Prime Video, Hulu, Disney+, HBO Max, and more. You can even stream live TV with apps like YouTube TV.
Integrated Audio Technologies: built-in 10 watt bass reflex speaker, plus Bluetooth wireless audio support - so you have many options for your audio experience.
The projector's lens shift capability allows for a flexible installation, allowing you to position the projector up to 60 percent vertically up or down. This makes it easy to attach the projector to tables, bookshelves, ceilings, or any other surface.
The Home Cinema 2350 Projector is now available directly through Epson and retailers for $1299.99. However, there is currently no Add to Cart option available on Epson's listing.